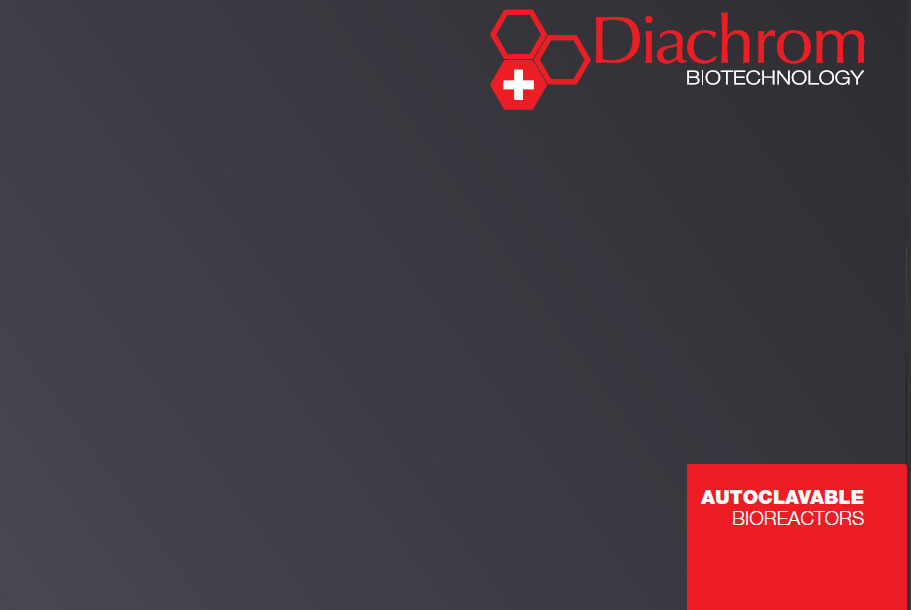 DiaBench bioreactors represent the latest advancements in mechanical, automation and software engineering applied to the bioprocess industry.
Industrial standard technologies, high-flexibility, modularity, easy upgrades and replacements, guaranteed long term spare parts availability and after-sales service distinguish Diachrom Biotechnology from competition.
High Flexibility and Reliability
via PLC automation and software platforms
Modularity and upgrades at any time
thanks to our new concept design
Quality without compromise
only certified materials are selected
Complete documentation. IOQ, DQ
and components traceability for GLP and cGMP
Service and Maintenance
with a worldwide network
PLC Control
The whole control unit is based on PLC hardware and software. Advanced Controller features include simultaneous control and regulation of various parameters in one bioreactor solution.
Controls:
• 2 x pH
• 2 x pO2
• 2 x temperature
• 2 x level and foam
• 2 x stirrer speed
• 2 x pressure
• up to 8 x variable or fix speed pumps
• up to 8 x MFC's or rotameters
• 2 x load cells
• up to 8 x balances
* extra inputs are available for biomass monitors, optical density, gas analyzer, pCO2, online automated samplers and others.
DiaBench PLC technology guarantee the best performances, reliability, long term service and spare parts availability unless proprietary systems.The selection of trusted hardware components united with our background in fermentation and cell culture implemented into the DiaBench Controller Software ends up into a unique advanced bioreactor.
DiaBench HMI
The DiaBench HMI (human interface touch-screen) represents the first complete local interface to fully manage, control and record process parameters in a bioreactor.
Functionalities:
• set-points configuration
and modification
• P.I.D. settings
• probes and pumps calibration
• dose monitoring
• up to 4 level of alarms
• up to 4 password protection definition
• sequences programming
• batches and feeding profiles formulations
• cascade controls and exponential equations
• Online recording (memory card and USB/Ethernet output connections)
• Data Visualization with graphic, curves and profiles displays
DiaBench is available with or without Human Interface Touch screen.
Each unit is equipped with:
• Batch
• Feed-batch
• Continuous modes of operation.
Fermentation setting page:
1 Preparation parameter setting access
2 Pre-inoculum parameter setting access
3 Inoculum parameter setting access
4 Cultivation (fermentation) parameter setting access
5 Alarms parameter setting access
6 Pump parameter setting access
7 Probe calibration parameter setting access
8 Memory data record update command
9 Start the" new batch" wizard
10 Inoculum start switch
11 Stop batch switch
Chosen of leading PLC:
Siemens, Allen Bradley, Schneiders Electric, Mitsubishi, Delta V.
Chosen of communication device:
Canopen, Interbus, Profibus, DeviceNet, ControlNet, ModBus, RS232/485, Ethernet, USB.
SMART DESIGN

DiaBench is Modularity and Flexibility at the same time. As a matter of fact, the homogeneity of our control unit and software beside the vessel's concept, offer full possibilities to work with several types of cells lines and micro-organisms without the need to modify instrument design.
Every unit is composed of:
• PLC module containing electronic elements
• Gas mixing module
• Pumps module
• Thermostatic circuit module with built-in fluidics and actuators for accurate temperature control.
Each module can be replaced or exchanged at any time without the need of an expert technician.
CONFIGURATION
Diachrom Biotechnology offers a wide selection of autoclavable borosilicate glass bioreactors available in the range of 1L to 20L total volume, single wall or jacketed. System concept allow you to
interchange vessel's size without any limitation on the system set-up. You can benefit of our classic
bioreactors selection either for Microbial fermentation or Cell cultivation.
Diachrom Biotechnology supply multi purpose Bioreactors and Fermenters for microbial, cell cultures or other non conventional applications. Our offer include Photo-Bioreactors, Air-Lift, Gas-Lift, MBR/SBR systems. Diachrom Biotechnology customize bioreactors according to specific detailed requirements.