ERIKS Sealing & Rubber Technology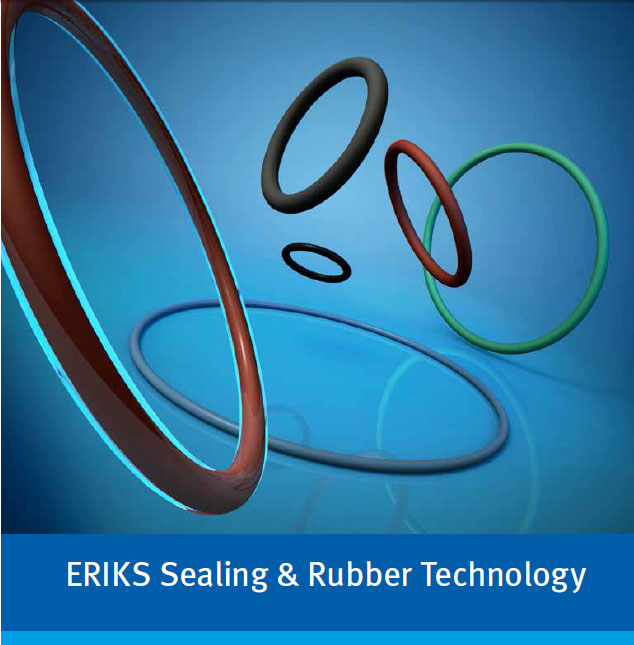 Know how ERIKS can help you
You know how the productivity and success of your business can sometimes depend on a singly seal. You know how even a tiny O-ring can make the difference between a good day's productivity and a bad one. Or how the right part designed and delivered in time can help you get to market faster. ERIKS' know-how makes the difference since 1940.
ERIKS is a world leader with more than 75 years' experience in the
production and distribution of high-performance O-rings, dynamic seals and rubber products. Whatever your needs, ERIKS has the solution.
Our business incorporates numerous group companies in multiple countries around the globe. We have a dedicated local team with national stocks and the support of worldwide ERIKS network, so you can get the parts you need, when you need them. Our hallmark is quality. From design to testing; from supply to afterservice; from manufacturing to innovation, ERIKS is entirely focused on providing you, the customer, with excellence in all that we do. We ensure that semi-conductors, drilling companies, vessel repairers, (petro)chemical plants, utility suppliers, food manufacturers, pharmaceuticals and other key industries function effectively by supplying only the best materials available on the market.
ERIKS is committed to keep your site at full production
Our aim is to build long-term working relationships so that you get the product you want, when you want it, at the right price and with superb services. Our extensive stocks and flexible logistics systems can provide you with considerable savings.
Quick supply
As largest stockholder of sealing and associated products, you are assured of the highest level of availability to keep your operation working. We hold extensive stocks of O-rings, that may be dispatched same-day to meet your requirements.
Customer specific stock holding is our specialty. Our advanced logistic software helps us optimise customer specific stock to maximise availability yet minimise your capital exposure.
Supply chain solutions
▪ Are you planning to reduce your procurement costs?
▪ Do you want to reduce your Total Cost of Ownership once and for all?
▪ Are you looking for a solid partner who can help you achieve these goals?
ERIKS O-rings: dedicated to the future
After the invention of the O-ring in the early 40's of the last century, ERIKS was one of the pioneers to bring this product to the world market. We provide a wide assortment with one goal: to offer you the best solution with the perfect seal.
The most common type of static seal is the flexible elastomer O-ring. O-rings provide an affordable, simple to install seal.
▪ 15.000 different dimensions on stock
▪ Available in a variety of materials to suit every sealing application
▪ Produced in modern injection and compression moulding machines
▪ Compounds following international norms and controlled in our laboratories
▪ Fully moulded O-rings are manufactured to several international size standards, incl. BS1806, BS4518, AS568, ISO 3601, JIS B2401 and DIN 3771
▪ Non-standard custom sizes, up to 2.5m (8ft) diameter can be produced in a single molded version to meet specific requirements, and even unlimited diameter with our Vulc-O-rings
www.o-ring.info

Outperforming standard O-rings in dynamic applications
X-rings
▪ Sealing is achieved by the diametrical squeeze in a right angled groove
▪ Lower diametrical squeeze than with O-rings as standard grooves are deeper
▪ More sealing capacity and a groove for lubrication; very favorable for dynamic sealing
▪ High stability for dynamic applications and more resistant to spiral failure
Versatile sealing solution to improve your equipment lifetime
V-rings
▪ Ring rotates with the shaft and holds itself in position by its elastic fit on the shaft
▪ Serves as a dynamic sealing element as well as a flinger
▪ Sealing lip provides excellent protection against water spray and dust
▪ Standard materials include NBR or FKM for higher temperatures or aggressive media
The most economic solution for large non-standard diameters
The Vulc-O-rings
▪O-ring from high-performance cord, similar quality as moulded O-rings
▪Very low compression set values and available in FDA compliant quality
▪Available in many materials, such as NBR, FKM, EPDM, VMQ, CR and HNBR
▪No upper diameter restrictions and no moulds required – resulting in cost savings
World's best encapsulated O-ring for critical applications
TEFLEX®
▪High flexibility combined with the ultimate chemical resistance of Teflon® FEP/PFA
▪Original Viton® or silicone cores with good compression set: no low quality compromise
▪Available in all dimensions up to 5000 mm in diameter, FDA compliant, USP Class VI
▪Particularly suitable for food & pharmaceutical applications
Total flexibility to meet your specific needs
Extrusions
▪Extensive range of special cords in high-tech compounds
▪Standard round cords in NBR, EPDM, FKM, VMQ, and CR
▪Standard square & rectangular cords in VMQ, EPDM, FKM and CR
▪Specialty extrusions in many materials and various hardnesses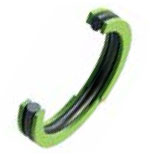 Excellent back-up for high pressure applications
Back-up rings
▪Anti-extrusion ring, used to extend the operating pressure of an O-ring
▪Axially compresses with pressure, increasing the radial width to close the extrusion gap
▪Available thermoplastic materials include PTFE, PEEK and Glass filled PTFE
▪Back-up rings are groove specific, please contact our sales team for detailed advice.
The high chemical resistance, high temperature, high purity seal for optimum performance in demanding applications.
High performance perfluoroelastomer

Kalrez® compounds last longer and seal more effectively than other elastomers in demanding processing environments. Kalrez® are resistant to almost any chemical, solvent including sour multi-phase fluids. Kalrez® parts offer extreme high temperature stability, meet FDA/USP requirements for high purity and deliver outstanding performance under pressure.
Kalrez® can reduce your costs and improve your process by:
▪ Resisting degradation in harsh chemicals
▪ Maintaining sealing force at high temperatures to reduce leakage
▪ Containing fewer ingredients that extract into the process
▪ Providing better vacuum sealing and lower outgassing in semicon applications
▪ Meeting stringent FDA/USP regulations for purity and cleanliness in food and pharmaceutical applications

The correct compound and curing process is critical to achieve the desired performance of any seal
– ERIKS test frequently the key mechanical properties to ensure material conformity
Quality assurance
Our extensive in-house material test capability allows us to ensure the highest quality of the  products we supply. We go above and beyond industry standards to ensure that our products are manufactured with high quality, high performance materials and consistent, repeatable and  documented procedures.
All of our manufacturer sites are ISO 9001 certified, some are QS 9000 and TS 16949. Our 
Elastomer Research Testing (ERT) laboratory is ISO 17025 certified and enables us to both test and  measure compounds and to develop new solutions. ERIKS invested in non-contact inspection devices and machines to offer zero-defect services.
In-house engineering
Our in-house engineers can design bespoke seals or custom rubber parts to  offer you the best sealing solution for your requirements.
▪ Compound development & testing
▪ Rapid prototyping
▪ 3-D CAD, 3-D printing
▪ Prototype or 0-series production
▪ Custom seal or rubber part design with 3-D CAD and Finite Element Method
▪ ISO Class 7 cleanroom with ISO Class 5 flowbench packaging capabilities
Following test papers are available on request:
▪▪Initial testing automatic certificate

▪▪PPAP reports
▪▪Inspection reports
▪▪Compound certificates
▪▪Surface inspection reports
▪▪Data sheets
▪▪Material safety data sheets
▪▪Initial sample inspection report
ERIKS: Leader for years in rotary seals
Since 1952, ERIKS has been at the forefront of sealing technology. We have 9000 moulds to produce standard oil seals in all possible executions. Our high-performance oil seals are produced in conformity with international standards.
Common types of oil seals


Innovative solutions in hydraulic seals
ERIKS' hydraulic seal capability encompasses a variety of seal types and materials, as well
as design and manufacturing resources. We consider it a challenge to advise, develop and
produce the optimum seal for every application.
ERIKS supplies a complete range of hydraulic seals; rod / piston seals, wipers and guide strips in PU (polyurethane), fabric-reinforced NBR and special PTFE compounds.
Spring energised seal:

The high-performance allrounder
Spring energised (SE) seals are often the ideal solution for demanding industrial applications, such as chemical pumps, gas turbine engines and vacuum equipment. SE seals are precision machined from PTFE and other high performance polymers and work consistently under a wide array of temperatures and pressures. With our in-house design and manufacturing capabillities we match every harsh challenge with the best solution.
Our wide range of rubber products and innovative thinking enable us to meet the needs of a variety of industries, including those with specific requirements and exceptional demands. Our product range encompasses mouldings, profiles, inflatable seals, anti-vibration mounts, bellows, cellular / sponge rubber, high performance and high purity rubbers, coated rubber parts, O-rings, and specialties such as assemblies, kits and cylinder coverings.
Anything is possible
Custom mouldings
▪ Practically any shape can be created as we know how to design the required tool
▪ Molding by compression, transfer and injection methods
▪ Used method is determined by the volume and compound type required

The options are many
Extruded rubber profiles
▪ Comprehensive product range of rubber profiles, from cord to sponge rubber
▪ Thermo Plastic Elastomer (TPE) solutions available
▪ Quick design and accurately manufacturing with in-house CAD/ CAM capability
Reduce the noise and vibration in your workshop
Anti-vibration mounts
▪ Cylindrical mounts for general low cost applications
▪ Technical mounts for reducing noise and vibration transmission and shock protection
▪ Levelling mounts and anti-vibration plates
Protect your machine elements
Bellows
▪ Protect cylinders and other machine elements against dust, water and other chemicals
▪ Produced primarily from Neoprene®; good oil and heat-aging resistance
▪ We offer bellows of nearly any configuration without additional tooling cost
Benefit from ERIKS' know-how online
Technical information centralised available. Visit our specialist website and benefit from ERIKS  know-how online. You can find information on our product range, including technical datasheets and production methods.
ERIKS offers different methods of interactive customer solutions. Read about our services and possibilities they hold for your company.
▪Numerous technical datasheets; 120 datasheets for O-rings available at all times
▪Numerous approvals / certificates
▪Construction and installation instructions
▪Multiple online selection tools and calculators
▪Over 4,000 pages of technical information regarding our comprehensive product range
Tools & Calculators
▪O-ring Design Calculator
▪O-ring Weight Calculator
▪Rubber Profile Calculator
▪Bellow Selector
▪ERIKS SealXpress
▪Unit Converter
▪Chemical Resistance Guide
Product websites
▪O-ring.info
▪Oil-Seals.info
▪RubberTechnology.info
▪Hydraulic-Seal.info
▪FlangeGaskets.info
▪Mechanical-Seals.info